About Oncology Massage Global
After over 30 years in science and medical technology (CTASC), diagnosing cancer, Eleanor Oyston attained a Dip Remedial Massage and studied Bowen Therapy in 2000. She founded Oncology Massage Training (OMT) and developed course content to comply with the international body the Society for Oncology Massage (S4OM), advised by Gayle MacDonald author of Medicine Hands, in 2004. Under Eleanor's leadership OMT became Oncology Massage Limited (OML), a registered charity, in 2009
Eleanor taught OM in Australia, New Zealand, Germany, Hong Kong, The Netherlands and Spain, presented at international conferences in Australia, Germany, Minneapolis US and Barcelona Spain, developed in-hospital training at the Olivia Newton John Cancer Research and Wellness Centre, Melbourne and the Life House, Royal Prince Alfred Hospital, in Sydney.
Research and education continues to be the focus of Eleanor's work as she firmly believes that will lead to respectful integration with medical services, Complementary Medicine (CM).
In 2015 Eleanor approached Western Sydney University, NICM, to develop a research project. Prof Caroline Smith and Dr Jennifer Hunter embraced Eleanor's ideas and together they undertook a major research project, mapping CM services for cancer patients around Australia. Through Eleanor's influence OM was a major focus in this research.
In 2017 Eleanor resigned from OML and established Oncology Massage Global (OMG) to begin delivering her programs in Barcelona, Spain, through the prestigious complementary academy, ISMET. Eleanor's course content has been recognised by S4OM since 2009. OMG is an international program designed to inform the development of oncology massage in hospitals and general practice clinics around the world in English and Spanish.
Courses and public lectures began in Bueno Aires, Argentina in 2019 and when Covid-19 allows, Eleanor will travel to South America to continue her work.
About Eleanor
It was at age 50 Eleanor went to massage school after working for 20 years in pathology laboratories and gaining national accreditation by the Royal College of Pathologists in cytology, diagnosing cancer. Eleanor was then the technical manager of a developmental neuroscience laboratory at the John Curtin School of Medical Research, Australian National University for 10 years, all the time, mothering three amazing children.
Mid-life can be a time to follow your passion and Eleanor was fortunate to be able to do just that.
At '30 something' Eleanor's massage therapist discovered a breast lump in her right breast. By the time it was discovered it was greater than 2 centimetres. Her job at the time was standing next to the pathologist doing a biopsy. She decided to change her life and see what happened. She got up to date with her relationships, changed her job to medical research, something she always wanted to do, and employed a highly regarded naturopath to navigate her way back to health.
Early intervention can be a double edged sword so she chose not to biopsy her lump and after three healthy years had it removed. There were necrotic areas in the benign lump and she felt her body had wrapped up and eliminated the 'naughty' cells that activated her lump.
Please don't follow her lead…she wouldn't make the same choices today.
There is a body of science research to support spontaneous remission and the experience of her breast lump lead her into the next 20 years exploring Complementary Therapies.
After completing a Diploma of Remedial Massage and Bowen Therapy, she wrote the first ten-week pathology course for massage schools in Canberra – an Australian first.
The NSW Cancer Council gifted Eleanor $30,000 to bring Gayle MacDonald, author of Medicine Hands, to Australia. Gayle and Eleanor taught 48 therapists oncology massage techniques and Gayle lectured to full houses from Ballina to Melbourne. The NSW Cancer Council supported the techniques and procedures.
On the residential programs with Petrea King Eleanor developed her craft, wrote manuals, articles for professional journals and began teaching skilled oncology massage therapists to teach her program. Eleanor continues to enjoy professional support from Petrea and joins residential programs from time to time. She has also developed and taught oncology massage to students around Australia and the world, including teaching Bowen-trained occupational therapists in Hong Kong, conducting a five-week lecture tour of Germany and teaching in the Netherlands.
Eleanor continues to run a patient centred clinical practice from her home outside Canberra
In 2016 Eleanor visited Spain and developed the first Oncology Massage Training program in Spanish which is accredited by the international body, Society for Oncology Massage (S4OM), USA. The prestigious ISMET Massage School in Barcelona has hosted several training courses taught by Kate Butler and students are members of S4OM.
Eleanor developed Oncology Massage Global in 2017 to further her work in Argentina and Spain, The Netherlands and Australia.
Published frequently in professional journals and magazines, Eleanor is also a passionate advocate of the benefits of oncology massage, speaking regularly at events in Australia and overseas.
Eleanor's book, 'Touching Cancer – My Journey of Self-Discovery with Oncology Massage' will be released in November 2022.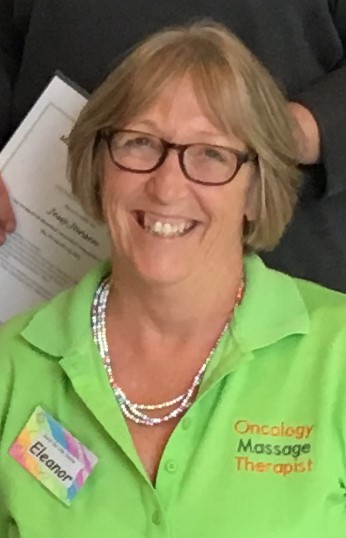 Kate Butler
Remedial & Oncologist Therapist and Facilitator
Dip. Remedial Massage, B.A, Level 4 Oncology Massage, Level 4 Decongestive Lymphedema Management, Cert 4 Training & Assessment.
Over 20 years experience as a therapist & teacher

Presenter on Oncology Massage in both Australia, USA and Spain


Founded the Oncology Massage service at the Olivia Newton-John Cancer Wellness & Research Centre at the Austin Hospital
A remedial therapist since 1997, Kate is now recognised as one of the leaders in the massage community, in particular for her lymphatic and oncology work.
She was accredited with the Epworth hospital (neurological, oncology wards and drug & alcohol rehab), The Melbourne Clinic, and qualified with the highest possible level of training in lymphatic therapy, including being registered on Australasian Lymphology Association website referred to by the medical sector.
In 2012 Kate assisted the delivery of the first Oncology Massage modules at the Olivia Newton-John Cancer, Research & Wellness Centre at the Austin Hospital in Heidelberg.  The success of this program led to Kate's position as the first salaried Oncology Massage Therapist at the Centre in 2012.  Two more therapists were employed in 2013.  
In 2015, Kate co-authored the Cancer Council Handbook on Massage & Cancer, and continued her role as the Victoria Coordinator for Oncology Massage Training.
Right from the beginning, she was interested in working in a medical setting and with chronic pain and lifelong diseases. Kate says that she "likes to work physically and connect with people", and that she is interested in the complexity of the specialised work in these areas.
Kate has been privileged to be invited to present at many conferences nationally within Australia, including the Australian Association of Massage Therapists (now Massage & Myotherapy Australia), and at the Oncology Massage Conference in Canberra. She has also conducted in-service education sessions with several organisations including the Cancer Council and the Prostate Cancer Support Group of Victoria.
Representing Australia, Kate has spoken at the Society for Oncology Massage in Minneapolis, USA, in late 2016 on the Australian hospital advancements in oncology massage and current research.
As a specialist therapist, Kate feels great privilege in helping people who may be suffering from complex problems associated with their disease process.  She is able to 'hold the space' for people to facilitate their own healing, however that needs to be.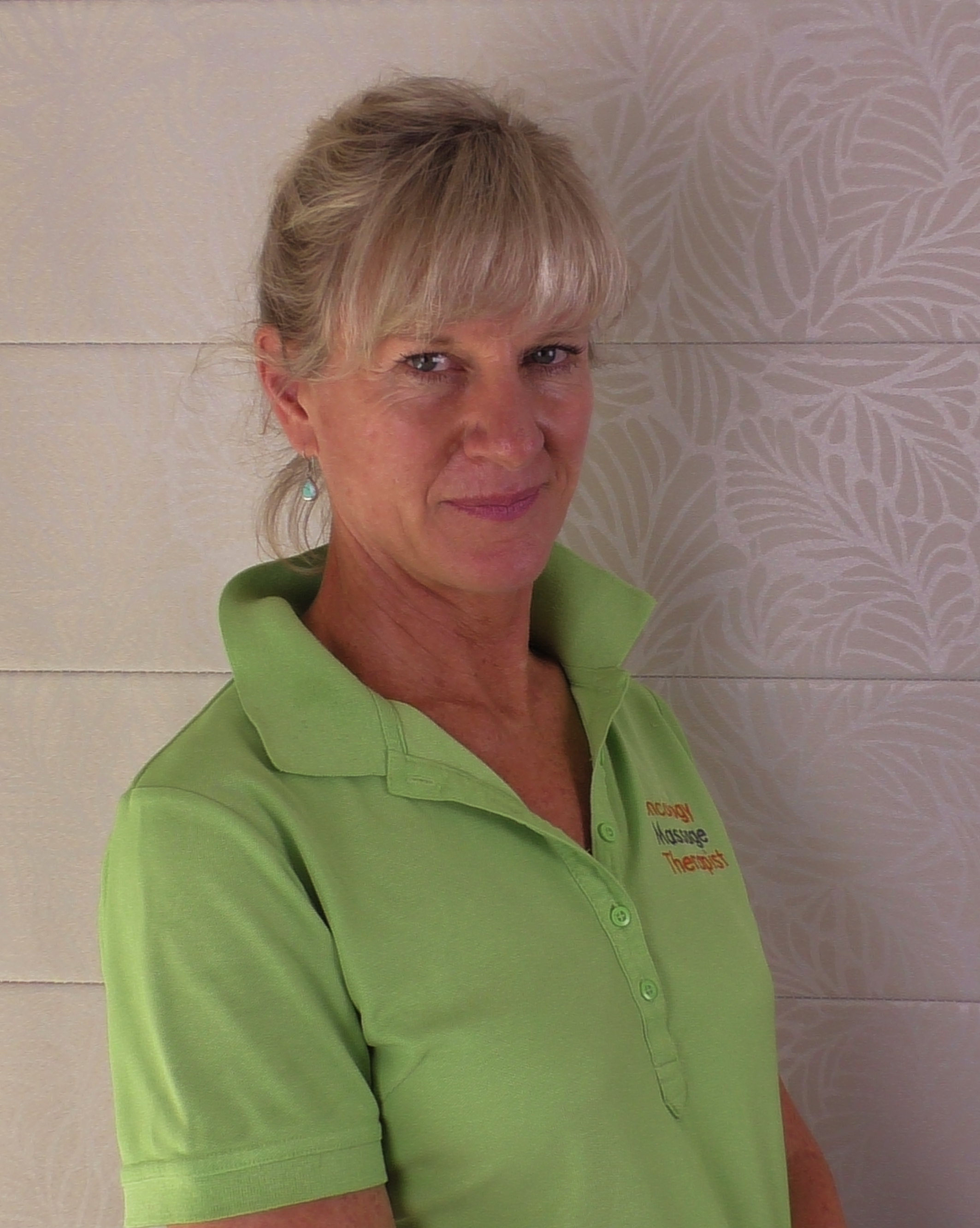 About Monica
Massage & Bowen Therapist.
Cert 4 Massage Therapy, Reiki Gokuikaiden, Level 2 Oncology Massage, Cert Pregnancy Massage, Cert 4 Bowen Therapy.
Monica Moreno has been working as a qualified massage professional for over eight years, beginning her career in Spain, she brought her unique understanding of massage and safe touch to Australia. Monica has a natural attraction to clients challenged by major health issues and her gentle, confident manner is a perfect fit for oncology massage.
Over the years she has studied several techniques that help her clients reach their wellness potential and build self-confidence.
On arrival in Australia Monica was surprised to learn about Oncology Massage.
Oncology Massage is not taught in Spain or many other parts of Europe. Monica was taught that massage was contraindicated for anyone diagnosed with cancer. Curiosity called and she was eager to learn this technique.
After her training in Oncology Massage and treating a wide number of patients she realised the benefit the technique brings to those suffering the side effects of cancer treatments.
The importance and need for well-trained practitioners was instantly apparent to Monica.
Since then the idea of bringing Oncology Massage techniques to the 'old continent' has been in her mind and she is working diligently to achieve this goal.
Monica is the key to developing an international program, tailored to the Spanish culture and taking the 20 years of our Australian experience to the land of her birth.